Nepal is the world's last remaining Hindu kingdom, where more than 80% of the Nepalese people are Hindu. Although Christians make up less than 1.5% of the 28-million people in this Himalayan country, Nepal is the number one fastest growing Christian population in the world! * Believers can be found in almost every people and caste group. However, 96 people groups are still classified as UNREACHED!
Churches are being planted at a phenomenal rate. The Assemblies of God (AG) began in Nepal with eight initial congregations 27 years ago. Today, that number has eclipsed the 1,000-church mark and continues to climb.
As you can imagine, the national church does not have enough qualified pastors for that many congregations. Added to those challenges is the certainty that the shortfall of trained pastors will begin to slow the rate of church growth, if not addressed immediately.
Nepal Theological College (NTC) exists to prepare graduates to become pastors and leaders for the task of carrying the gospel to all unreached people of Nepal.
Almost 90% of NTC graduates continue to be active in ministry today, a success rate crucial to the expansion of God's Kingdom. While AG Nepal is growing at the rate of 100 churches per year, NTC is currently graduating approximately 40 pastors annually.
A plan in place will sustain this momentum and accelerate the two-degree programs currently offered at NTC. In order to accomplish this, Builders International is partnering with AG Nepal, Priority One, and Envision Nepal in Kathmandu to build a 40- X 80-foot, six-story facility.
Many among those studying at NTC are women. However, there is no housing for a woman at the NTC facility. The multi-purpose dormitory building will include dorm rooms for 100 female students, a retail center that will help with financial support of NTC, a parking deck, office space, and student activity space.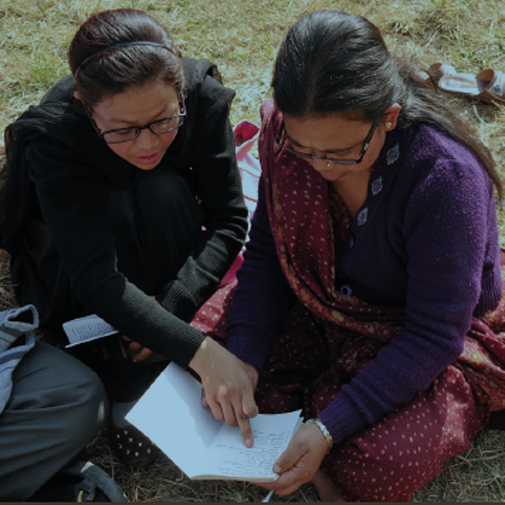 One of the women currently studying at NTC is Sasha**. Sasha was born into a Hindu family in the neighboring country of India. Abandoned by her father at an early age, she turned to drugs and alcohol to ease her pain. Feeling alone and empty, she accepted an invitation by a friend to a Christian youth meeting one evening. After attending several times, Sasha gave her heart to Jesus!
Immediate transformation began in her life. But, it came at a cost. Her Hindu friends retaliated against her new Christian lifestyle by throwing acid on her as she was getting into a taxi. At first, she wondered why they threw water on her. Sasha quickly realized it was not water, as her flesh began to melt, burning her face, neck, and arms. Rushed to a local hospital, Sasha's life was spared. Nevertheless, she sees the scars across her body every day as a reminder that the Hindu people of Nepal desperately need Jesus. Sasha is excited about taking the gospel wherever God leads after her graduation!
Your tax-deductible gift will influence numerous female students like Sasha. It will allow women the opportunity to study God's word and train to be future leaders in Nepal, a country with a rigid caste system and patriarchal society.Please consider changing the course of a student's life, and impacting the future of Nepal!
$80 will provide space for one female student, just like Sasha, to grow in her leadership skills and to make an impact in Nepal!
$200 will provide floor tiles for an entire dorm room, allowing students to kneel in prayer, thanking God for the opportunity to share His love with the people of Nepal!
$8,000 will complete an entire dorm room, and allow more women the opportunity to study God's word and prepare for future leadership in Nepal!
The harvest is ready in Nepal! We are excited to be a part of this remarkable, spiritual movement that God is blessing. Thank you for your consideration.
Building for Life,
Ryan Moore
Builders International, Director
P.S. Church growth in Nepal has been nothing short of miraculous! Will you partner with us, so more students like Sasha can continue to study God's word and take the gospel to the unreached people groups of Nepal?
______________________________
*According to The Center for the Study of Global Christianity at Gordon-Conwell Seminary's 2013 study.
**name changed